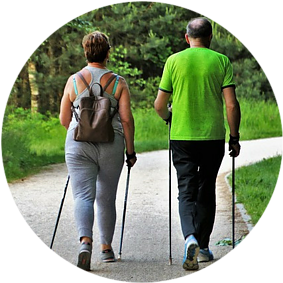 Whether you are venturing out after an extended break or simply looking for motivation to keep up your streak, look no further. These pages will give you tips, goals, stories of success, recommendations and answer any questions about walking.
How about some quick motivation?
Let's do a fast 5:
Muscle and joint health- Studies show people who walk help their joints and help develop or maintain muscles.
Walking 20 minutes a day 4-5 days a week can cut heart attack risk by almost 1/5 according to The American Heart Association.
Almost everyone capable of walking a few feet is able to extend that over time with work.
Depending on how physically in shape you are, the terrain and how fast you go, walking can burn anywhere from 2-25 calories per minute.
Once you can go miles, combining exercise with errands is a fabulous way to save mileage and wear and tear on your vehicle. That amounts to saving money! Who doesn't like doing that?
So, what's stopping you from getting some steps in today?
I can't wait to see you strolling along.